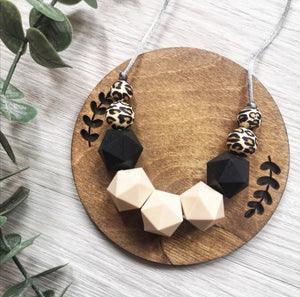 Part of the Celestial Collection, the Leo. A mix of black and cream icosahedrons finished with leopard print round beads. 
These teething and breastfeeding necklaces are a perfect combination of style and function. Our UK designed and handmade baby safe jewellery is perfect for your little one to chew on when teething, grasp when breastfeeding & provide sensory stimulation, all while looking stylish.
Fun for baby
Baby can play with necklace whilst feeding, helping maintain focus

Used to sooth sore gums whilst teething
An alternative to pulling your hair or other jewellery, sticking fingers up your nose or scratching. Making snuggles a lot calmer. 
Providing interesting and tactile shapes to help develop your baby's hand eye coordination. 
Baby safe
Made from FDA approved silicone beads, tactile and interesting to baby

Strength tested soft nylon cord
Safety clasp which pulls apart when tugged
Easy to clean with soap and water
Compliant with EU safety standards EN71 part 1-3
Designed and handmade in the UK
A perfect gift for a new mum, baby showers or mum friends. Or a treat for yourself and your teething baby. 
This necklace measures approximately 28 inches end to end, and aims to hang low on the neckline at the right height for baby to access when being held. Breakaway plastic clasps are used so if pulled hard the necklace will simply snap off your neck. If you would like the necklace longer or shorter, please just send me a message after checkout.
Safety Information
Our jewellery is to be worn by adults only, please do not give the necklace to a baby to play with, the cord and breakaway clasp are not designed to be chewed on. Do not leave a baby unattended with the jewellery.
Check the beads, cord and clasp regularly for any damage and stop use immediately should this occur.
Obsessed!
My 4 month old is obsessed with this necklace! It's really helped with the distracted feeding helping him stay focused and on the boob for longer. I'll definitely be buying more in different colours to match all my outfits!
Beautiful and practical
Such a gorgeous necklace and whilst I got this early for my son (2months old) as he isn't teething. When he feeds he loves to play with the necklace and it keeps him engaged
teething necklace
Lovely gift which recipient loved. Nicely packaged. Quick delivery.
Amazing company, amazing products
We absolutely love the tiny fox teethers products! Initially started, of course with the teethers and then moved on to the fab suction plates etc and they did not disappoint! Lovely selection of pastel colours, nice sections for different foods and suction works well too. The necklace teether goes so well with all my outfits and is obviously ideal to always have it to hand when out and about. They also do beautiful headbands/bows which we have HAD to buy aswel. Postage is cheap and delivery is promt considering current circumstances. Highly recommend this company to anyone and everyone. Good quality, safe and aesthetically pleasing pieces.
Leo teething necklace
Beautiful necklace and an even better teether, my son was chomping on it as soon as I put it on. Looks great on!