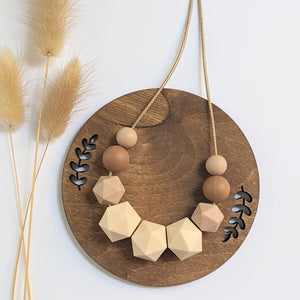 Part of the Celestial Collection, this necklace is a subtle blend of neutral colours. A mix of oatmeal and beige icosahedrons finished with camel and beige round beads. Perfect for the modern understated mama! 
These teething and breastfeeding necklaces are a perfect combination of style and function. Our UK designed and handmade baby safe jewellery is perfect for your little one to chew on when teething, grasp when nursing & provide sensory stimulation, all while looking stylish.
Fun for baby
Baby can play with necklace whilst feeding, helping maintain focus

Used to sooth sore gums whilst teething
An alternative to pulling your hair or other jewellery, sticking fingers up your nose or scratching. Making snuggles a lot calmer. 
Providing interesting and tactile shapes to help develop your baby's hand eye coordination. 
Baby safe
Made from FDA approved silicone beads

Strength tested waxed cord
Safety clasp which pulls apart when tugged
Easy to clean with soap and water
Compliant with EU safety standards EN71 part 1-3
Designed and handmade in the UK
A perfect gift for a new mum, baby showers or mum friends. Or a treat for yourself and your teething baby. 
This necklace measures approximately 28 inches end to end, and aims to hang low on the neckline at the right height for baby to access when being held. Breakaway plastic clasps are used so if pulled hard the necklace will simply snap off your neck. If you would like the necklace longer or shorter, please just send me a message after checkout.
Safety Information
Our jewellery is to be worn by adults only, please do not give the necklace to a baby to play with, the cord and breakaway clasp are not designed to be chewed on. Do not leave a baby unattended with the jewellery.
Check the beads, cord and clasp regularly for any damage and stop use immediately should this occur.
Both me and little one love it!
A great quality and great looking necklace! It's the perfect length and goes with al of my outfits. Little girl loves playing with it while she is nursing too!